High Energy Ball Milling
In discussions on high energy ball milling, the more generic term "ball mills" is often used in place of the terms "stirred ball mills" or "Attritors," but the differences between the types of mills are quite distinct.
And, depending on your application, you may find that one type of high energy ball milling is more appropriate for your operation than another.
In comparison with conventional ball mills, Attritors use fewer resources, including:
Time, Energy, Media
Plant Space
In addition, Attritors offer the advantage of being able to take samples at any time and making formulation adjustments during high energy ball milling. Alternatively, ball mills are closed systems and do not offer these advantages. Nevertheless, ball mills can be a more appropriate choice for grinding larger sized material starting at 1/4 " or larger. It should be noted that ball mills are much larger than Attritors and therefore require a special foundation.
The Attritor's design accounts for much of the difference: conventional ball mills turn the entire drum or tank containing the media and the material, while Attritors stir the media in a stationary tank with a shaft and attached arms or discs resulting in a more efficient use of energy for the milling process. Further, Attritor tanks are all jacketed which allows for more precise temperature control during high energy ball milling.
The savings in energy and the increase in grinding efficiency provided by Attritors are substantial. The graph below compares various mills during the high energy ball milling process.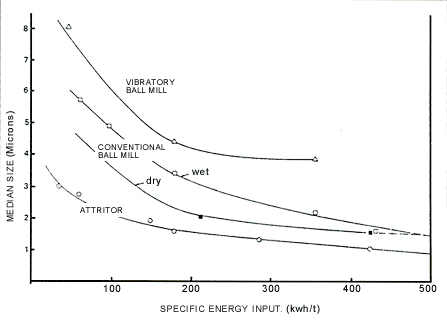 Select a link to learn more about these Attritor-style stirred ball mills: Dry Grinding – Continuous or Batch Mode
Dry Grinding – Continuous Mode
Wet Grinding – Batch Mode
Wet Grinding – Circulation Mode
Wet Grinding – Continuous Mode
OR
Contact us now to put the Attritor difference to work for your company:
Call us at 330.929.3333, contact us or click here to find a rep in your area.