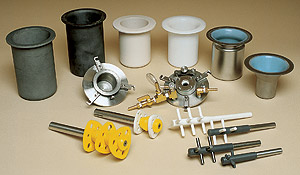 Information for Spare Parts Request
The importance of genuine OEM parts can often be an over-looked aspect when it comes to performance and efficiency. Union Process Inc. offers only the highest quality OEM spare parts for your existing Attritor mill(s). Simply fill out the form below for your spare parts quote request, and a Union Process representative will be in touch with you shortly.
---
Refurbishing
Equipment refurbishing (also referred to as rebuilding, re-manufacturing or reconditioning) is yet another solution offered by Union Process. For used Union Process equipment purchased on the secondary market or older models in need of reconditioning, enhancement or upgrades to present standards, the refurbishing process employed by Union Process restores equipment to "like new" condition. Combining authentic OEM parts and Union Process expertise, refurbishing equipment is an alternative choice where budgetary constraints do not allow for the purchase of a new mill.
Typical Steps in Refurbishing
Receive machine and make initial visual inspection
Replace all missing parts with authentic OEM parts
Replace all wearing parts with new parts (arms, grids, etc.) when required
Check tank for wall thickness wear
Inspect motor for proper operation
Rebuild gear reducer, if required
Replace hoses and valves, if required
Test and re-certify machine to OEM specs and prepare to ship.
With Union Process refurbished or new equipment, customers can always count on quality. Simplicity of design means easy operation, low maintenance, and readily available parts. It all adds up to lowering the risk of purchasing second hand equipment and providing a solid return on your investment.
Contact Union Process today for help in refurbishing or reconditioning your old Attritor.