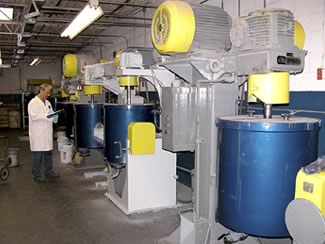 Union Process provides Toll Milling and Toll Grinding services for customers who wish to save on the cost of capital equipment, personnel, space required and other costs associated with milling product on their premises or those who wish to test market a quantity of material before investing in capital equipment.
Toll Milling and Toll Grinding by Union Process assures the highest quality results as all work is done by skilled personnel who are extremely knowledgeable about the equipment.
In addition, Union Process operates a fully outfitted lab and pilot plant so testing can be done on a customer's specific material to determine what results can be achieved before the decision is made to enter into a Tolling agreement.
Tolling can be done for specified short term work or for long term ongoing periods.
Highest quality results
Wet grinding, dry grinding, small media milling available
No additional personnel required
No capital expenses
Contact Union Process today for the expert toll milling services you need.