How Continuous or Batch Dry Grinding Attritors Work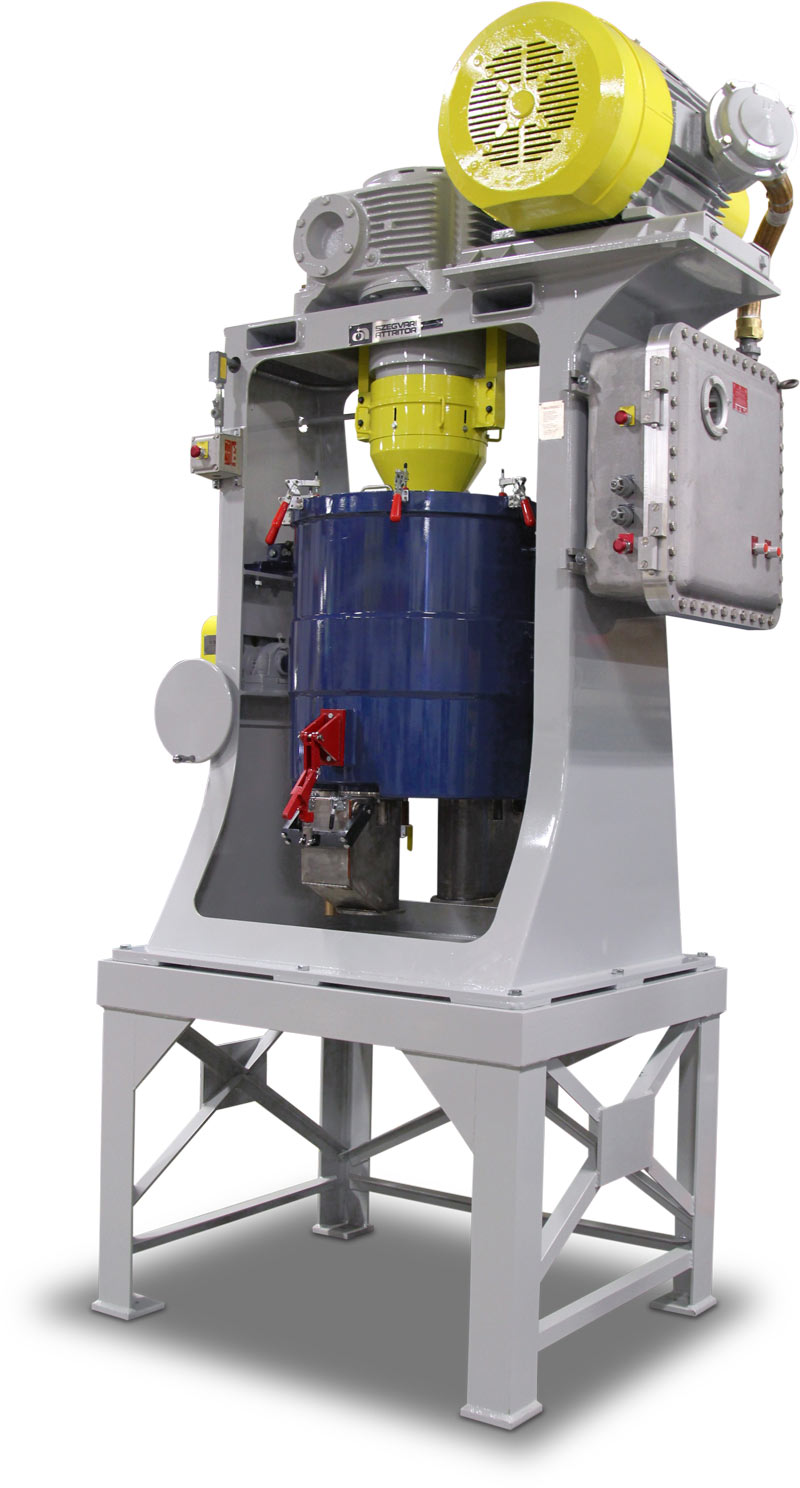 Dry Grinding Attritors can be operated in Continuous or Batch operation. For a complete explanation of how Dry Grinding Attritors work in both Continuous and/or Batch operation, please download the Technical Paper "Attrition Dry Milling in Continuous and Batch Modes".
SD Series
The SD Dry Grinding Attritors can be operated in both continuous and batch processing applications. In the continuous operation, the material is fed into the vessel at the top. It then migrates through the agitating media bed where it is processed to a desired particle size and is discharged through metering bar grids at the bottom of the tank.
In the batch mode, material is charged into the mill at the top, ground for a predetermined time, then discharged through grids at the bottom. The system can easily be sealed for grinding under inert gases such as nitrogen or argon.
The SD Attritor is also used to make dispersion-strengthened metal (DSM). In this process (known as mechanical alloying or cold welding), the kinematic porosity results in the grinding media breaking the metals into small particles and beating them together to form agglomerates. By repeating the process, the various metals are evenly mixed and dispersed to form a new composition of alloy (DSM).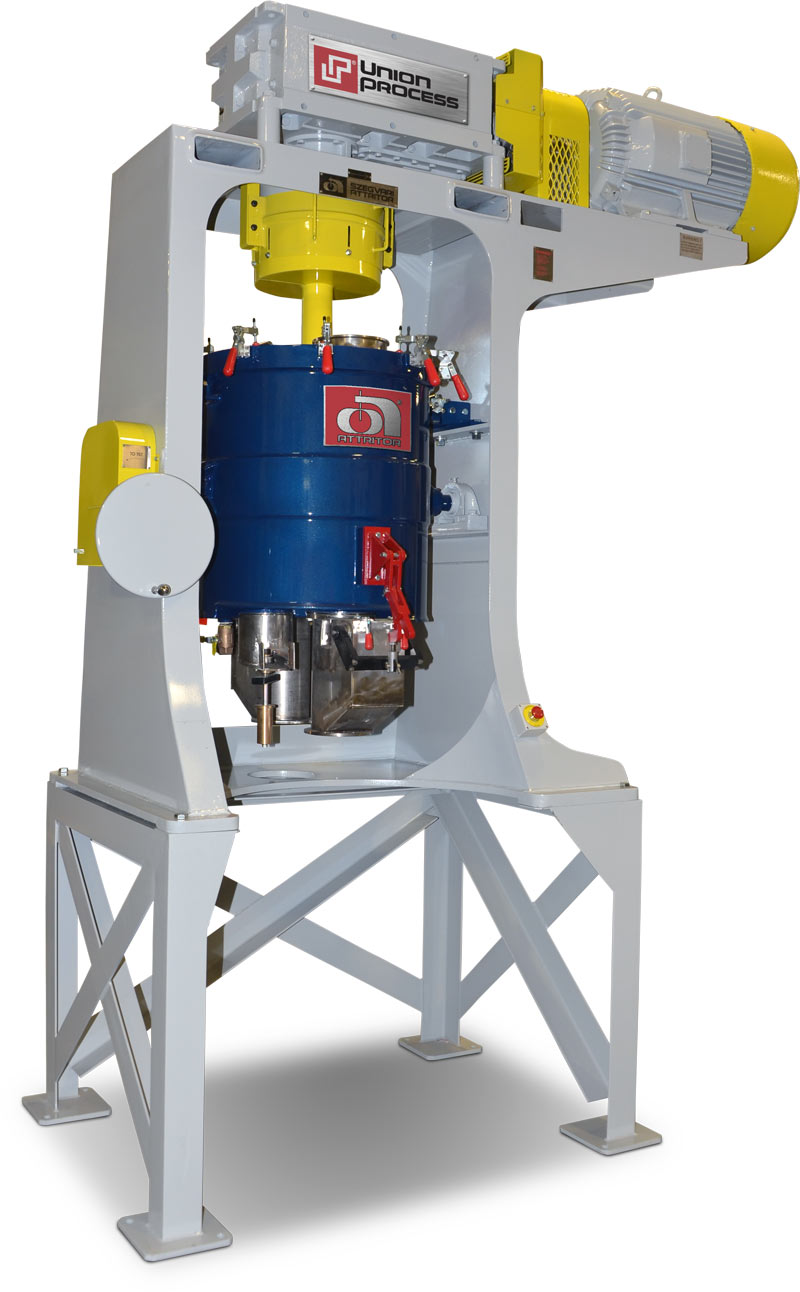 Union Process SD Dry Grind Attritors are ruggedly built machines with specially designed, two-speed, high starting torque motors. They are also equipped with jacketed, stainless steel tanks and tilting mechanisms for ease of cleaning and maintenance.
SD SERIES Features and Options:
All eight models can be outfitted to operate in either batch or continuous mode.
All models equipped with ammeter.
When metal contamination must be eliminated, tank liners and arm sleeves of tungsten carbide or various ceramics can be applied.
Cover seals can be provided for conditions where dust control is desired, or where grinding must be done under a closed inert gas system.
Torque meter is available including torque and speed sensor read-out.
Media discharge valves can also be installed.
Variable frequency drives and controls are available.
Common Applications for Dry Grinding Attritors
Ceramic Powders
Glass frits
Metal powders
Mechanical alloying
Metal oxides
Fibers and cellulose
Food products
Ferrite
Pigments
Minerals
Coal and coke
Graphite
Plastics and rubbers
Chemicals
Engineering Data
ATTRITOR MODEL
SD-5
SD-10
SD-15
SD-30
SD-50
SD-100
SD-200
SD-250
Gross Tank Volume (gals)
9
16
24
52
81
155
255
288
Material Capacity (gals)
2-3
4-6
5-7
10-18
15-25
30-50
60-100
75-125
Media Volume (gals)
5
9
12
25
37
75
150
187
HP*
5-10
10-20
15-25
25-60
40-75
60-125
125-200
150-200
Height (H)
79″
83″
86″
96″
104″
114″
126″
136″
Floor Space (W x D)
34″x 68″
59″x41″
59″x41″
66″x44″
74″x48″
84″x58″
94″x64″
106″x68″
Machine Weight (lbs) w/o media
2000
2400
2800
3500-5500
4500-6000
5600-
7900
11,000-
14,000
14,000-
16,000
Various types of ceramic linings are available for all models.
*For ceramic media, less horsepower is required.
Equipment can be built to CE specifications, if required.