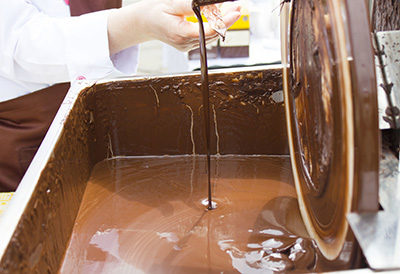 Chocolate & Confection Applications for Continuous, Batch & Circulation Mills
Despite the name, a chocolate grinding machine can be used for a wide range of applications beyond cocoa liquors and milk chocolate. These uses include:
Confectionery compound coating
Ice cream coatings
Chocolate nut paste
Nut dispersions
Spice dispersions
Cheese/oil dispersions
Manufacturers of these products have specific considerations of their own when it comes to the right "chocolate grinder" for their processes. These can range from FDA regulations to the need for high quality, consistent, reproducible results to certain temperature requirements or the ability to add ingredients during the grinding process.
Because meeting these challenges is beyond many standard machines, some equipment manufacturers develop specific chocolate grinders. Chocolate processing equipment designed and manufactured by Union Process provide advantages like reliability and a wide range of customization options.
We offer three chocolate grinding machine series to meet specific needs:
Circulation Q-Series, high circulation rate milling system for efficient grinding and narrow particle size distribution. The Q-Series features an Attritor with a jacketed grinding tank for superior temperature control and formulation adjustments.
Continuous CH-Series, requiring minimum floor space while providing continuous production for maximum throughput.
Batch S-Series, for very viscous applications such as chocolate and nut paste or where increased residence time is required for maximum particle size reduction.
We also offer laboratory batch Attritors that are ideal for formulation research as well as the highest quality chrome steel, carbon steel and stainless steel grinding media.
---