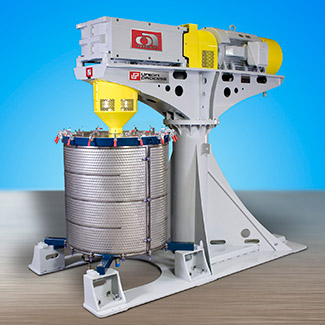 Akron, OH. . .Union Process, Inc., known globally as a manufacturer of particle size reduction and dispersing equipment as well as related services for a broad range of research and industrial applications has manufactured a large production S-400 Attritor for a unique green manufacturing initiative.
The customer was interested in seeking ways to cut costs and reduce the environmental impact of its manufacturing processes. By working closely with Union Process, a special large Attritor was designed that allows the customer to wet-grind his waste material in the Attritor so that it can be recycled and used in producing new product in their manufacturing process.
This particular process also required that the Attritor operate at elevated temperatures. To accomplish this, Union Process built a special abrasion-resistant steel tank featuring external clamp-on heating plates ASME-rated for 150 PSI @ 400º F. The approximate working capacity of the S-400 is 300 gallons of slurry.
The large tank of the S-400 accommodates 12,000 lbs. of through-hardened carbon steel grinding media.
Sales Manager Emery Li noted, "This mill was a win-win for our customer and our environment. Not only are they now able to eliminate wasted raw material that they formerly had to dispose of, they are now also able to regrind and re-use that material while being environmentally friendly."
Union Process is the inventor and developer of Attritor technology and manufactures wet and dry grinding mills as well as horizontal bead mills.
Attritor is a registered trademark of Union Process, Inc. Attritor is a registered trademark of Union Process, Inc.
Contact us for more information.